7*25W Outdoor LED SLIM PAR(IP65)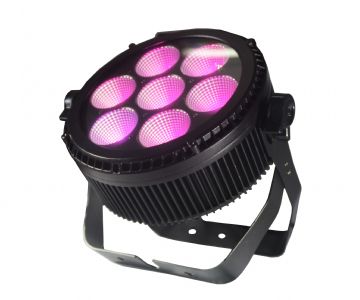 7*25W Outdoor LED SLIM PAR (IP65)
Model:OX-RG07
Our own desiged & mode development water proof IP65 !
black die-casting aluminum body
Lens Beam:standard 60°,20°and 30°are optional
Stand-alone mode,DMX mode,Sound active mode
Voltage: AC110-220V, 50-60HZ
Rated Power: 140W
Channel: 5/8CH
Source: 7*25W LED(RGBWA 5in1)
Body size: 270x256x310mm
Packing size:carton:410x350x205mm(one packing)NW:7KG GW:7.5KG
Carton:720x430x430mm( 4in1 packing) N.W:24KG G.W:29KG
Plywood:670x670x400mm(4in1 packing) NW:28KGGW:36KG
Plywood: 670x990x400mm( 6in1 packing) NW:42KGGW:53KG
one power cable and signal cable for 6pcs lights
Features:
1.Ideal for quiet installations due to silent operation and no moving parts.
2.Easily transports as of slim body.
3.Our unique mould make the fixture lense 60 degree, 20 degree, 30 degree for your choose to suitable for different application.
4. Heavy-duty lighting housing, each light net weight reach for 7kg, good cooling system to make sure long using life.